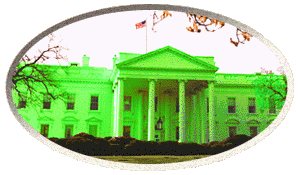 America's 43rd President, George W. Bush, and First Lady Laura Bush welcome you to the White House.
---
In Focus
The White House gets a facelift!
At the First Lady's request, the White House will receive a new coat of paint. Laura Bush kicked off the painting ceremony saying, "There's just something elegant about green." The White House is your house, so tell us what you think.

For Sale: Spy Plane
The White House offers for sale to the highest bidder: One used spy plane. Top of the line United States military technology foreclosed by bank. High bidder must repossess. Photographs and location available on request. Inquire via email.