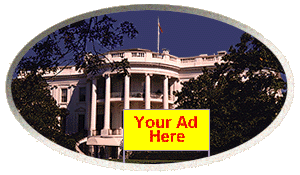 America's 43rd President, George W. Bush, and First Lady Laura Bush welcome you to the White House.
---
In Focus
White House to rent billboard space on lawn.
To help fund the Tax Cut, the White House will begin renting advertising space, including banner ads on the web page, corporate sponsorship of the White House letterhead, and billboards on the lawn. For rates, please inquire.

ExxonMobil company to fund White House energy plan
In a bold public/private partnership, the ExxonMobil company will contribute one billion dollars to fund exploratory drilling in the Alaskan wildlife preserves, a key component of the President's strategy to combat the growing energy crisis. To cement the partnership, the Lincoln Bedroom will be renamed the ExxonMobil Bedroom.